Alcohol CCVD Genration of SWNTs
High-Purity, Low-Temperature, and Very Simple
Updated: '02/10/24
---
TEM & SEM observation of AS-GROWN sample
TEM and SEM Pictures of As Grown Sample!
SWNTs generated from alcohol CCVD method (Ethanol, 800 degC).

For details read the following paper.
S. Maruyama, R. Kojima, Y. Miyauchi, S. Chiashi and M. Kohno, Chem. Phys. Lett., (2002), vol. 360, no. 3-4, pp. 229-234.

---
Resonant Raman Scattering of AS-GROWN sample

Raman Scattering of As-grown samples with different reaction temperature.
Excitation 488 nm.
The Resonant features of SWNTs are explained in the following page.
http://www.photon.t.u-tokyo.ac.jp/~maruyama/kataura/kataura.html.
---
Experimental Apparatus & Procedure
While we are trying the nanotube generation from C60 as carbon source, we accidentally found that very pure SWNTs were made from ethanol used for the solvent of catalyst metals. Here, the Fe/Co metal catalysts were supported with Y-type zeolite according to the technique developed by Professor Shinohara at Nagoya University. Our technique is just very simple as follows.
(1) Catalyst on a quartz boat is set in the quartz tube in the electric oven.
(2) While heating up the oven, Ar flow is kept.
(3) At desired temperature, once evacuate the quartz tube with the mechanical vacuum pump.
(4) Introduce alcohol vapor flow from the room temperature reservoir.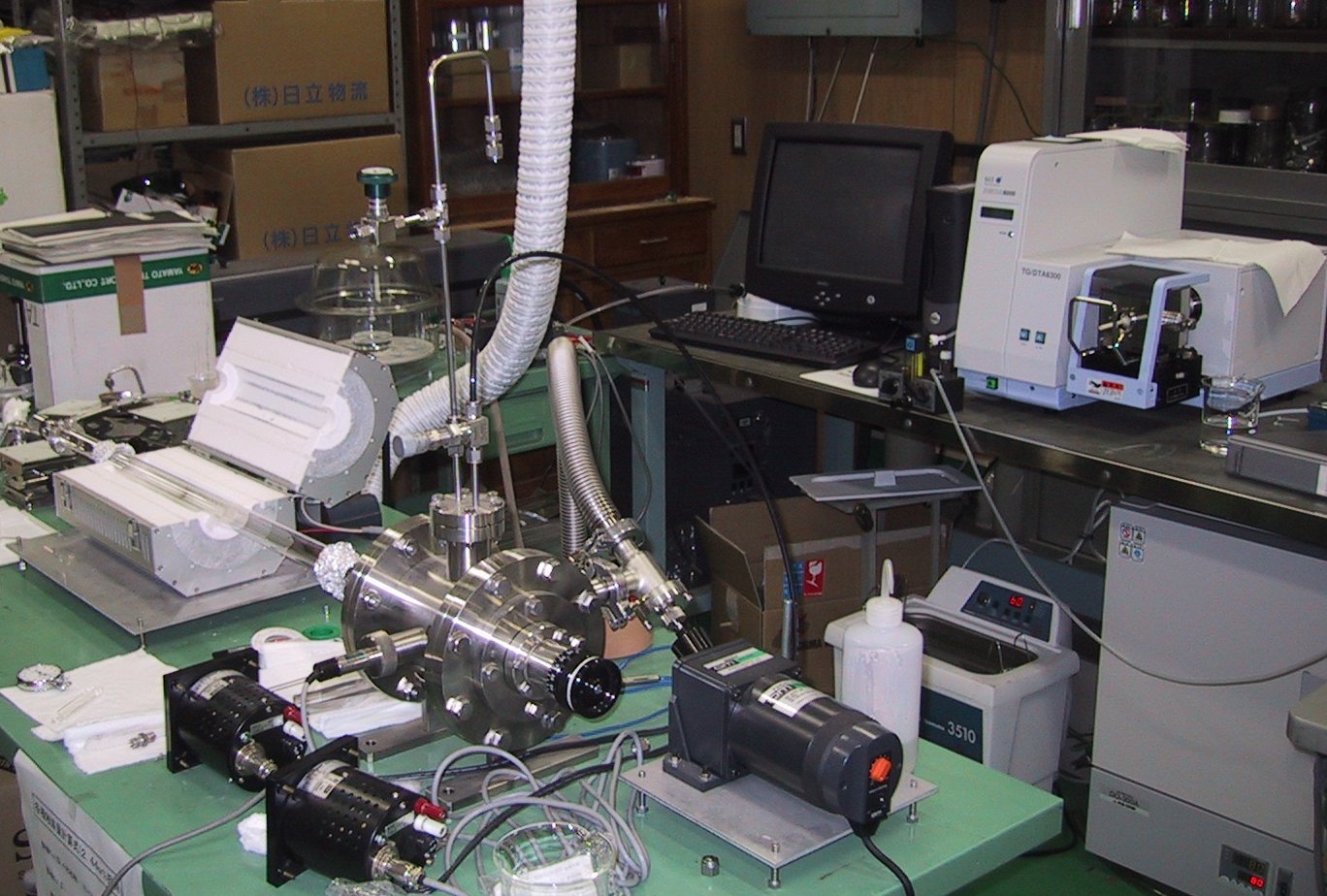 [Click for enlargement]

Alcohol catalytic CVD apparatus
---
Generation Mechanism
This simulation is the image of CCVD growth of SWNTs from hydrocarbons.
In the case of alcohol, OH radical is left after the dissociation.
This OH reacts with a carbon with a dangling bond (Orange Molecules).
Hence, the soruce of formation of amorphous carbon or MWNTs is prohibited at
the early stage.
Since the selection of SWNTs is through this chemical reaction, the low-temperature generation is possible.
Molecular dynamics simulation by Y. Shibuta and S. Maruyama
Ni particle (108 atoms) of about 1.2 nm diameter.
Potentials:
Covalent bond between C-C:Brenner potential
Van der Waals Force: Lennard-Jones potential
C-Ni, Ni-Ni: Original Potential from
Y. Yamaguchi and S. Maruyama, Euro. Phys. J. D, (1999), vol. 9, pp. 385-388.
Carbon atoms (Hydrocarbon molecules) can make covalent bonding only when both atoms were attaching to the surface of catalytic metals.
---
---