WONTON '09

3rd Workshop on Nanotube Optics & Nanospectroscopy

June 7-10, 2009

Matsushima, Sendai, Japan
Organizers: Shigeo Maruyama (The University of Tokyo) and Riichiro Saito (Tohoku University)

Updated: June 30, 2009
---
Thank you for your participation to WONTON '09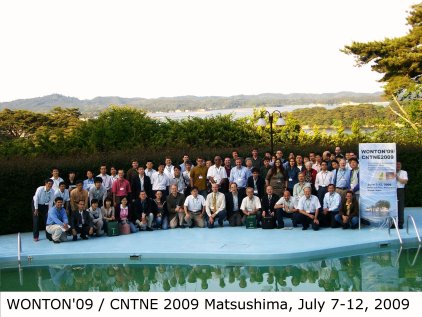 Click here for Group Photo
Download all photos (41 MB, password protected)
Next WONTON '11 is going to be organized by Laurent Cognet at Bordeaux, France in 2011.
INFORMATION and PROGRAM
---
All posters will be displayed from opening on 7th through lunch time on 10th with poster sessions on 7th and 8th.

The poster size is resommended be A0 size: 841W x 1189H: The panel size is 1200W x 1800H.
It looks like the left picture:
---
---
JOINT PROGRAM
International Symposium on Carbon Nanotube Nanoelectronics (CNTNE2009) will be held at the same location during June 9-12, 2009. WONTON and CNTNE2009 will be jointly programmed on June 9 (afternoon) and June 10. See program of CNTNE2009 (June 9-12)
---
10-76 Inuta Matsushima, Matsushima machi, Miyagi-gun, Miyagi
TEL.: (81) 22-354-2161(rep) FAX: (81) 22-353-3431
Matsushima is located at 350km north from Tokyo.
Access: by JR (Japan Railway)
Tokyo Narita Airport
→ JR Tokyo Station (1 hour by NEX Narita Express)
→ Sendai Station( 2 hours by Tohoku Shinaknsen )
→ Matsushima-kaigan Station (1 hour by JR Senseki line)
→ Hotel Taikansou (12min on foot or taxi)
Tips for travel to Matsushima and other places in Japan
---
At Workshop Site
The registration desk at the workshop site will be open
from 14:00 to 18:00 on June 7
from 8:00 to 18:00 on June 8
from 8:30 to 16:00 on June 9
from 8:30 to 12:00 on June 10
---
SCOPE
The Wonton '09 workshop builds on the success of the previous two workshops (Wonton '05 @ Telluride and Wonton '07 @ Ottawa)
Here are some of the topics covered in Wonton '09:
Light absorption, emission, and scattering
Raman spectroscopy
Carrier interactions, band structure and optical spectra
Excitons in carbon nanotubes
Ultrafast dynamics of carriers, excitons, and phonons in carbon nanotubes
Spectroscopy of small ensembles or individual nanotubes
Magneto- and electro-optics
Nanotube-based optoelectronic devices and electroluminescence
Growth, purification and separation of nanotubes for optical studies
Spectroscopy of Graphene
---
Invited Speakers:
| | | |
| --- | --- | --- |
| Yoji Achiba (Tokyo Metropolitan Univ.) | Tsuneya Ando (Tokyo Inst. Tech.) | Gustavo Cancado (Univ. Rochester) |
| Stephen K Doorn (Los Alamos National Laboratory) | Mildred S. Dresselhaus (MIT) | Andrea C. Ferrari (Univ. Cambridge) |
| Marcus Freitag (IBM) | Tony F. Heinz (Columbia Univ.) | Tobias Hertel (Univ. Wuerzburg) |
| Yoshikazu Homma (Tokyo Sci. Univ.) | Masao Ichida (Konan Univ.) | Atac Imamoglu (ETH Zurich) |
| Ado Jorio (UFMG) | Manfred M. Kappes (Univ. Karlsruhe) | Hiromichi Kataura (AIST) |
| Jay Kikkawa (Univ. Pennsylvania) | Junichiro Kono (Rice Univ.) | Ji Ung Lee (Univ. Albany, SUNY) |
| Jacques Lefebvre (NRCC) | Steven G. Louie (UC Berkeley) | Sumit Mazumdar (Univ. Arizona) |
| Nobutsugu Minami (AIST) | Arao Nakamura (Nagoya Univ.) | Susumu Saito (Tokyo Inst. Tech.) |
| Michael S. Strano (MIT) | Zi Kang Tang (Hong Kong Univ. Sci. Tech.) | Christian Thomsen (Tech. Univ. Berlin) |
| R. Bruce Weisman (Rice Univ.) | | |
Organizers:
Shigeo Maruyama (The University of Tokyo), Riichiro Saito (Tohoku University)
Kazunari Matsuda (Kyoto University) , Yutaka Ohno (Nagoya University), Junichiro Shiomi (The University of Tokyo)

Important Dates
1st April deadline for abstract submission
20th April -deadline for abstract submission
20th April - notification of abstract acceptance
30th April - notification of abstract acceptance
20th May - deadline for registration and lodging reservation
7th June - welcome reception and evening scientific program
7th June - scientific program start at 15:00 and welcome reception in the evening.
7th -10th June - scientific program
---
Deadline is May 20th (extremely strict).
All invited speakers should use this form but ignore the registration fee.
The Wonton conference will start on June 7 (Sun) 15:00 and finish on June 10 (Wed) 17:00. From Narita to Matsuhima, please expect 5 hours. The detail access information will be given by e-mail at least end of May.
If you will come from Mexico, USA or some related countries, please take a sufficient margin of time from Narita (or any other terminal) to Matsushima (Sendai). If your arrival time is late (after 4pm), we recommend to stay overnight in Tokyo and try to come to Sendai.
---
DOWNLOAD 1st Announcement (pdf)
DOWNLOAD 2nd Announcement (pdf)
DOWNLOAD 3rd Announcement(pdf)
---
Previous Meetings:
WONTON '05: July 17-20, 2005, Telluride, July USA
Professors T. Hertel and J. Kono
WONTON '07: June 4-7, 2007, Ottawa, Canada
Professors Paul Finnie and Jacques Lefebvre
---
Contact: wonton [at] photon.t.u-tokyo.ac.jp